Amiibo Placebo Cards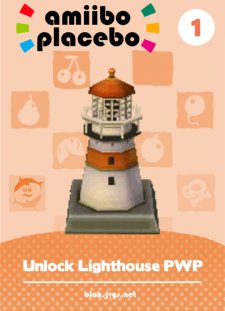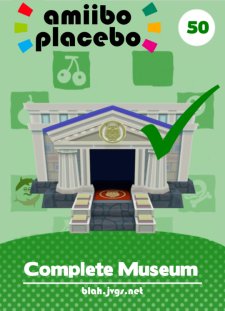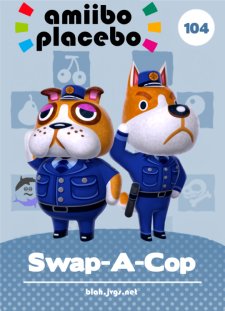 Why waste HOURS playing Animal Crossing when you can just scan a card and be done with it? Unlock your favorite PWP, build a new shop, expand your house immediately, or even complete your museum with a single card!
If you can't do it, the cards
s
can! Introducing Amiibo Placebo. Unlock the fun!
Here are just a few of the 1,000 cards available!
Raise the Roof


Expands your house to maximum size.

Sea You Soon


Immediately unlocks Kapp'n and the island.

Swap-A-Cop


Allows you to replace Copper with Booker, or vice versa.

Snow Problem


Gives you all of the items from the snowman and snowfamily! Pretty cool!

Sew Impatient


Unlocks the big sewing machine so you can use QR codes right away.

Now Museum, Now You Don't


Move the museum from one end of Main Street to the other!

Roster the People


This card fills your friend roster up with random numbers. Now you're popular!

Badge of Dishonor


Rain or shine, this card gives you every gold badge in the game!

Card 101


Unlocks Club LOL. Laugh in Shrunk's face when he tells you he needs signatures for a petition!

Mr. Beans


The coffee you make at the Roost will always be perfect.

Fashion Faux Pass


Pass all of Gracie's fashion checks whether you deserve it or not.

Bye Roids


Those pain-in-the-butt gyroids no longer appear in the ground.

Leif Me Alone


Leif waters flowers and pulls weeds without being asked.

Disarm Pits


No pitfall seeds will appear in town.

Card #1000


This rare card lets you instantly complete EVERYTHING in the game. You'll never need to play it again! In fact, it takes you directly to the eShop, so you can buy another game!
And just like the real cards, these are not available in stores!
Looking for more game parodies?
Special thanks to Beth for her help with this project.